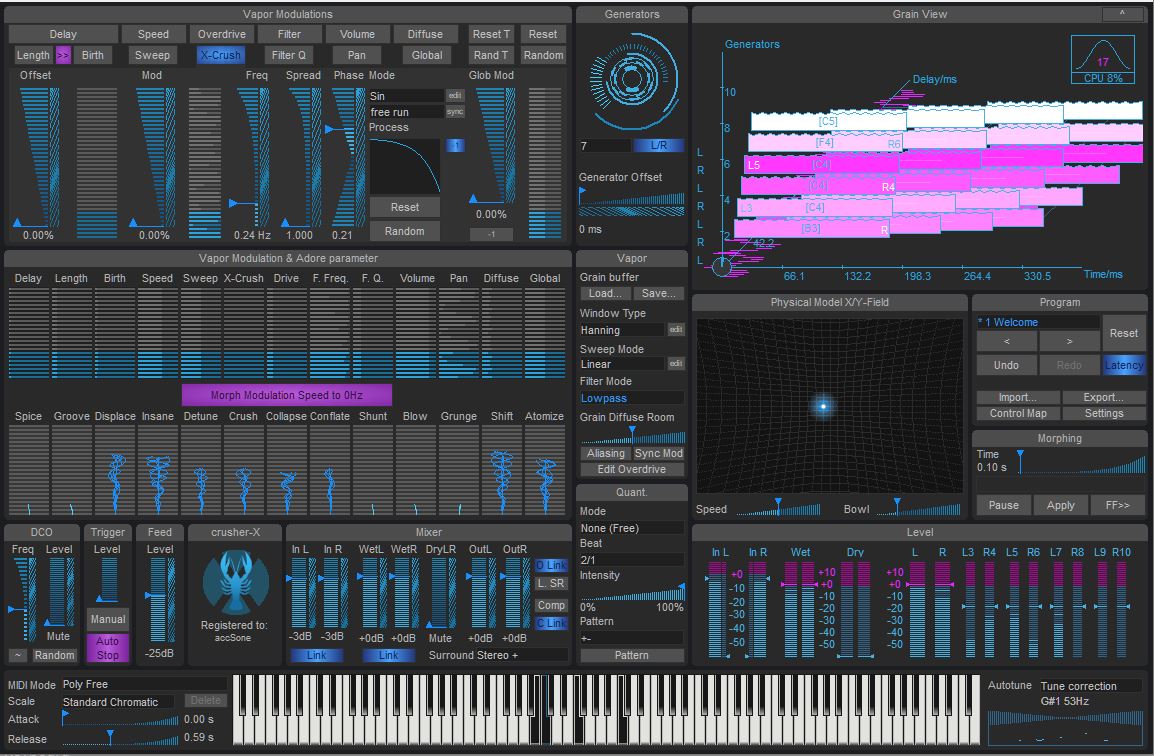 Welcome to an exceptional updgrade!
We invested! We invested in groundbreaking innovative features like the latency compensation, a surround capable multichannel, free spline editable compressor/expander/limiter and a unique modulation freezer. Don't worry about leveling anymore, give the crusher-X feedback a shelter to become crazy! We listened to our rapid growing customer base and invested in the grain processing engine, MPE, offline rendering and UI optimizations to make the crusher the best in class live granulizer ever. And we invested again to improve accessibility for visual impaired / blind composers.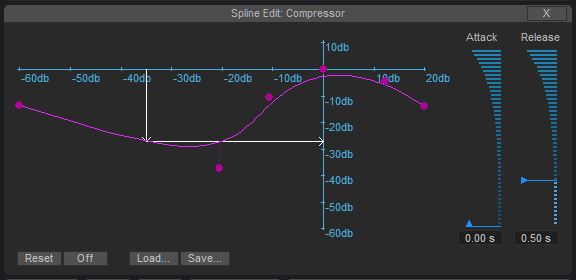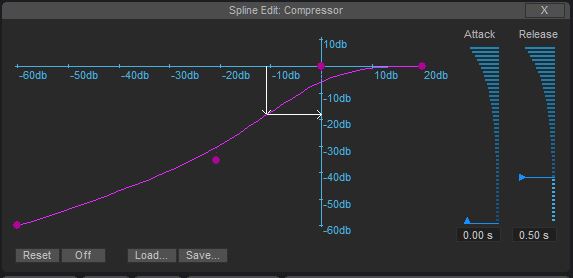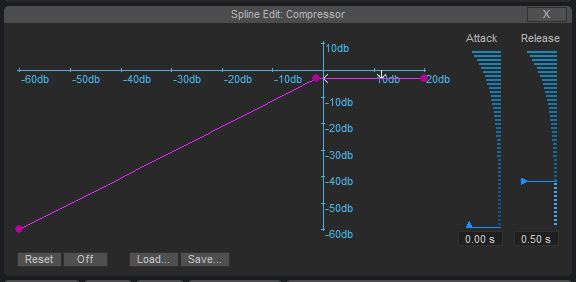 The Full spline editable multichannel surround compressor/expander/limiter comes with flexible channel linking. It allows sophisticated output level and feedback flow control. Never worry again about uncontrolled level changes. As the relationship between input and output level can be completely free defined by a spline curve, very special (incl. inverse) channel level behaviors that can be programmed (use it together with feedbacks!): Think pumping and swelling surround drones! Play with unusual long Attack and Release times...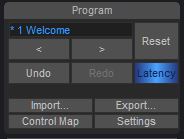 Beside optimization of the DSP engine to reduce latency the additional latency button in the program panel launches a calculation of a latency compensation for the current patch (or modified patch) and notifies the host. This makes sure that your audio generated by the crusher stays in sync with the track that feeds the crusher (e.g. to stay synchronized on a drum-beat). If a patch contains deeper modulations of the Delay, Length, Speed or Sweep parameters the smart latency compensation algorithm will calculate a compensation regarding the current "grain gravity" so that the compensation stays meaningful.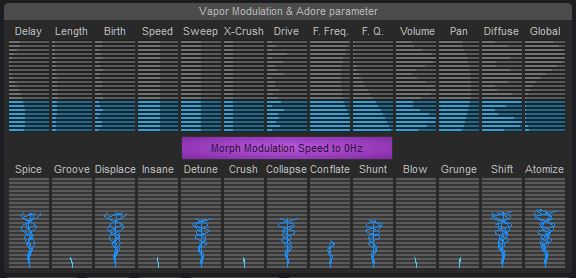 A very powerful effect can be achieved by pressing the new "Morph Modulation Speed to 0Hz" button: Depending on the morph time setting all vapor modulations will decelerated and finally paused until the button is released. The button is mapped to a plug-in parameter called Vapor.Freeze. Use this feature in your live performance map the button or the Vapor.Freeze parameter to an external MIDI controller device.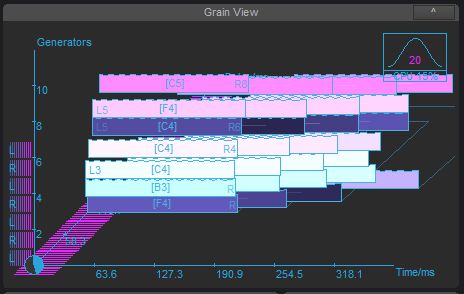 Once enabled the new "Grain to MIDI" function in the new global settings panel, crusher-X will create MIDI controller events from the current grains and generators following the Volume parameter modulation and the Grain Window volume control. You can route these MIDI events via your host to e.g. other MIDI controllable devices like e.g. a DMX Light controller, mixers, instruments etc. This supports advanced multimedia installations where one want to let a MIDI controlled setup follows the current grain-flow. The current generated control value is displayed in the Grain View left to the Y-Axis.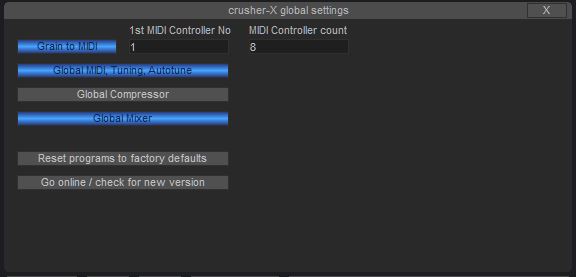 All global settings are now combined in the global settings editor. The settings also includes the new feature to allow the mixer to be not modified by a patch change.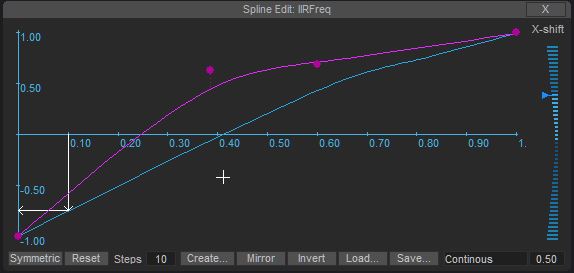 crusher-X can be nearly fully controlled without using the visual editor. Around 270 plug-in parameters can be used to automate or steer each parameter. Inspired by working close together with blind composers, accSone developed several features to enable blind / sight impaired musicians to control crusher-X: With the plug-in parameters cursor-X, cursor-Y, SetDelete one can even edit spline curves and step sequences without using a mouse by using virtual X/Y cursors and a set/delete plug-in parameters. The virtual cursor is visualized in the Spline or Step editor as a white cross. This can be used to train the usage of the edit parameters together with a sighted peer.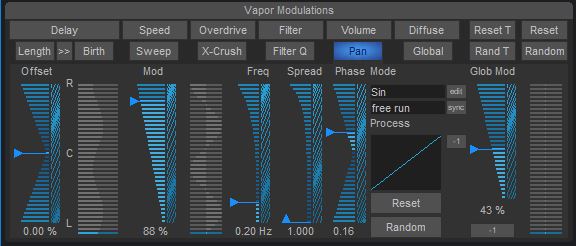 We completely reworked the Pan system: The panning parameter reacts now much more intuitive and leads to stronger pan effects once starting to modulate it. Fasten your ear belts once you start to use it together with the Spread or Phase modulation and/or surround modes!
Complete crusher-X 7.5 change list:
Adds smart latency compensation button/functionality to ensure beat synchronicity in track/loop based productions
Adds a multichannel free editable compressor/expander/limiter to the output stage. Has channel linked and non-linked mode
Adds overall "Morph Modulation Speed to 0Hz" Mode that allows morphing to no vapor modulations back and forth. Allows impressive interactive changes between modulated and static drones
Adds a "Grain to MIDI" feature that translates the current grain volumes per generator into individual MIDI controller streams. Supports multimedia/light/DMX installations
Adds global modes for Mixer settings to decouple mixer settings from switching programs
Adds new MIDI MPE Free mode that allows continuous MPE control without stopping grains on MIDI key off
Adds a new panning processing that leads to much more distinctive grain panning modulations
Adds new AR vapor modulation mode that allows modulation from the Attack/Release MIDI section without any velocity impact
Adds automatic range selection on moving ranged sliders
Adds disablement of the overload grain protection when host renders offline (enables huge mass grain processing beyond current CPU capacities)
Adds protection to plug-in parameter assignments in control mapping
Adds program reset plug-in parameter
Adds DCO waveform plug-in parameter
Adds initial patch load after importing a sound package
Adds a global settings panel
Adds reset to factory default button in global settings panel
Adds a reset of the Overdrive spline when resetting the Overdrive modulation
Optimizes import speed of multiple crusher sheets
Optimizes Grain View on longer grains
Optimizes trigger plug-in parameters so that they reflecting the button press state and only trigger on values > 0.5
Optimizes support for blind / sight impaired musicians for sweep, overdrive and compressor spline editor
Optimizes spline handle visualization in spline editors
Optimizes input visualization in spline editors (incl. only one grain at a time sweep spline input visualization)
Optimizes GUI layout and colors
Optimizes Volume Left/Light/Surround link behavior
Optimizes DSP processing
Fixes issue with random high CPU load in case of high feedback volume
Fixes issue that sometimes PM-Field background was black
Fixes issue with Rand S&H modulation if spread >0
Fixes issue with RandLine modulation
Fixes Feed.level plug-in parameter bug
Fixes bug in Process UI-control
macOS: Fixes seldom crashes on closing the host
macOS: Fixes crash in case a preference file became corrupt
macOS: Cleans up unnecessary plug-in resources
vstwrap: Optimizes ASIO dialog
... and read more about new features of crusher-X 7 or crusher-X 6