Munich 01-30-2023
accSone is proud to announce the release crusher-X 10 - the multichannel granular synthesizer and effect plug-in for sound designers and composers!
What is new in crusher-X 10?
The new version is named "Glitcher-X" as it introduces a unique Glitcher Mode that will allow the sound designer to create glitching granular beats, surround slips, crazy audio jumps, short-term loops, granular tuned melodies and particle based sound scratches. Glitcher Mode anchors grains to auto-selected incoming life audio events and modulates the grain around these anchor points during the grains life-time. This new concept is rather unique in the granular synthesis world. A controllable spectral selector will help to mask the audio input. It auto-triggers the respawn of a grains to the next audio transient in the incoming pipe.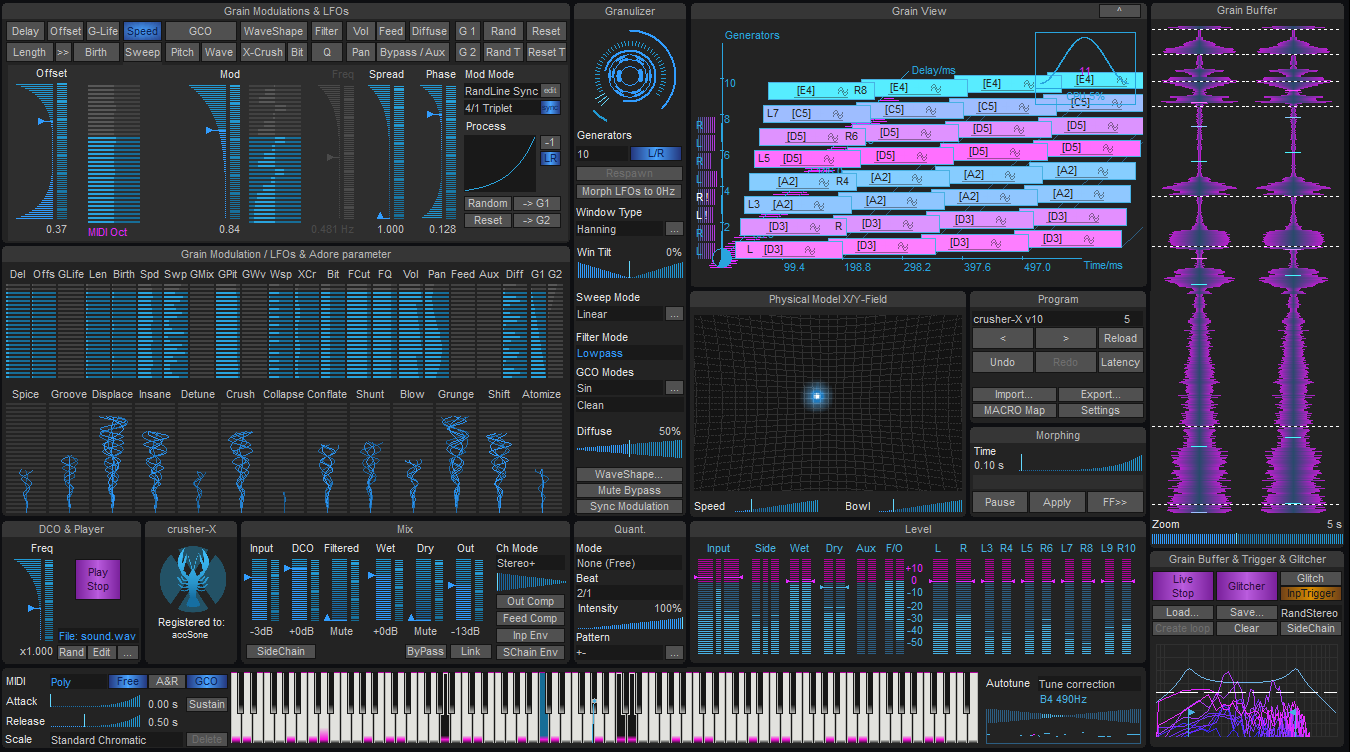 This major version comes also with a new set of raw ASMR (Autonomous Sensory Meridian Response) sounds are added as a source for granular sound design to make audience shudder and cringe, so it creates tangible reaction for the listener. crusher-X is likely the first software that thinks ASMR sounds together with granular synthesis. The resulting sounds are tiny, fine and quite. These snippets shimmer around the audience bodies and have the potential to hijack them into an sensuality experience.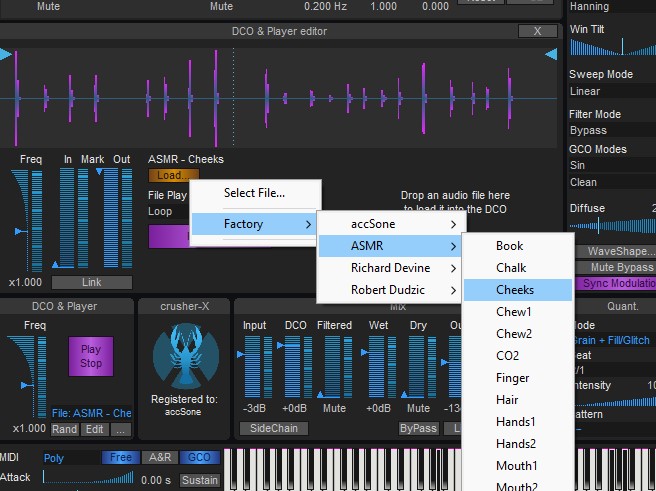 The new live spectral controlled transient sensitive trigger system with a twin filtered interactive frequency selector allows to create way more sophisticated grain buffer fills, glitch selections, respawn and quantization event triggers. The output of this interactive formant filter can be used as an additional input signal for the Granulizer. This opens the door for sophisticated granular filtered sweeps and advanced and color rich drones.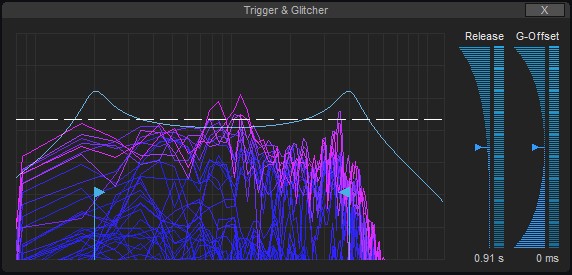 And crusher-X 10 supports now professional sound design studios with providing an AVID AAX version for Windows and macOS (incl. native Silicon / M1 support). Also the AAX version supports full flexible stereo and surround configurations up to 7.1.2 channels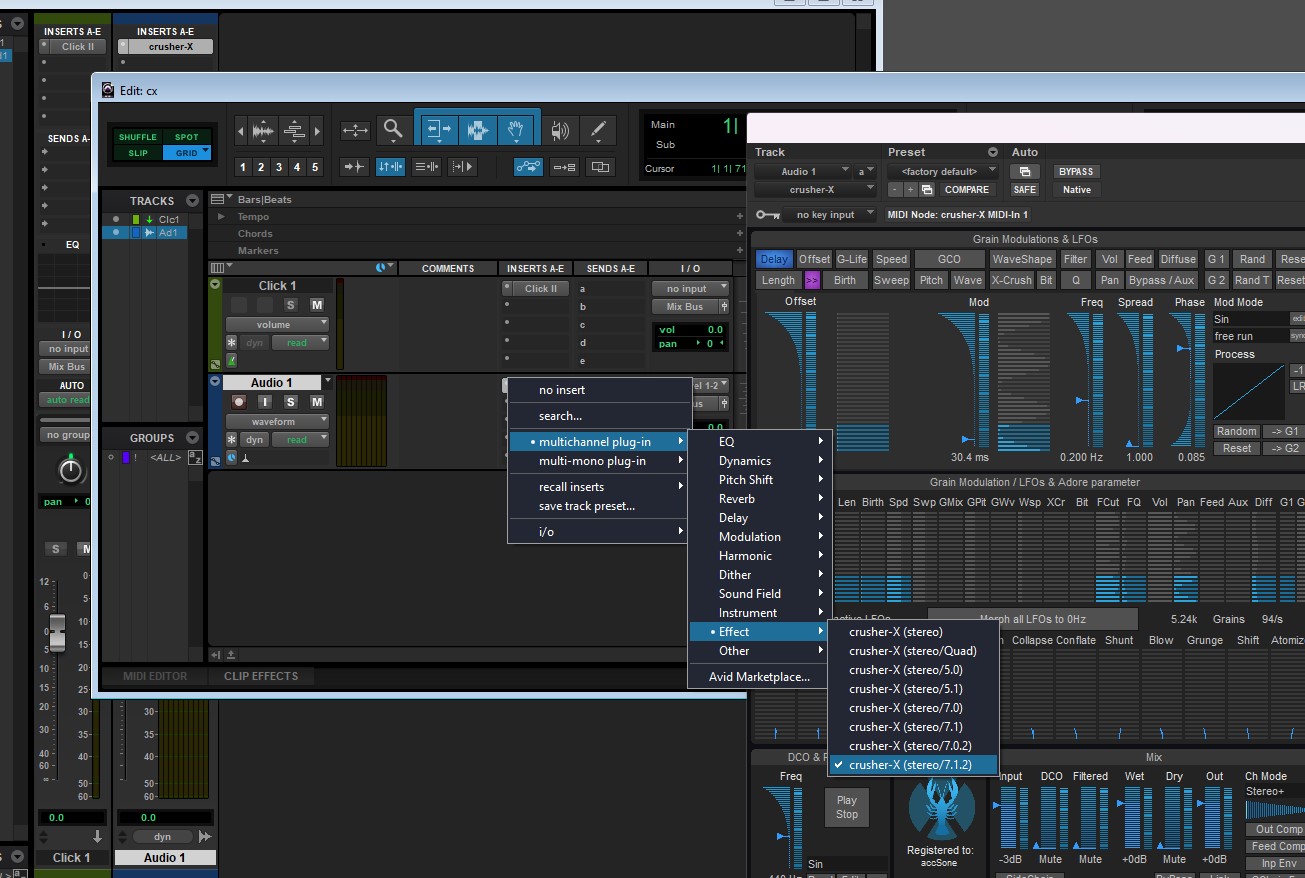 Technology
crusher-X is avail for both platforms as an Effect plug-ins with the ability to also synthesizes sounds by itself and in combination with the input signal
macOS (Intel & native Silicon/M1, 64bit): VST2, VST3, AAX
Windows 64bit: VST2, VST3, AAX, Standalone
Availability
Upgrade/Crossgrade from all older crusher-X versions : 99,- € (incl. VAT)
Full version: 289,- € (incl. VAT)
About crusher-X
crusher-X is a multichannel granular synthesizer and effect system. Its powerful live, polyphonic, multichannel granular synthesis algorithm creates very complex sounds, drones and outstanding surround effects. Since 1999, the crusher-X trademark has been "the" granular effect standard. crusher-X is used by famous sound-designers, composers, musicians and film-makers all over the world. It comes with GCOs, an Autotune and Pitch tracking system, up to 10-channel surround outputs, up to 199 individual grain streams, unique 3D grain visualization, over 4300 LFOs, over 410 real-time parameters and more than 190 presets.
About accSone
accSone developments focuses on software that provides sound designers, musicians and artists with special and unusual tools for their outstanding projects. accSone was founded in 1997 by Dr. Jörg Stelkens and is located in Munich/Germany. The accSone flagship product crusher-X was born 1999 and raised up to the "most sophisticated" tool for granular synthesis in the market.
Contact
Dr. Jörg Stelkens
Westendstr. 26
D-80339 Munich/Germany
This email address is being protected from spambots. You need JavaScript enabled to view it.